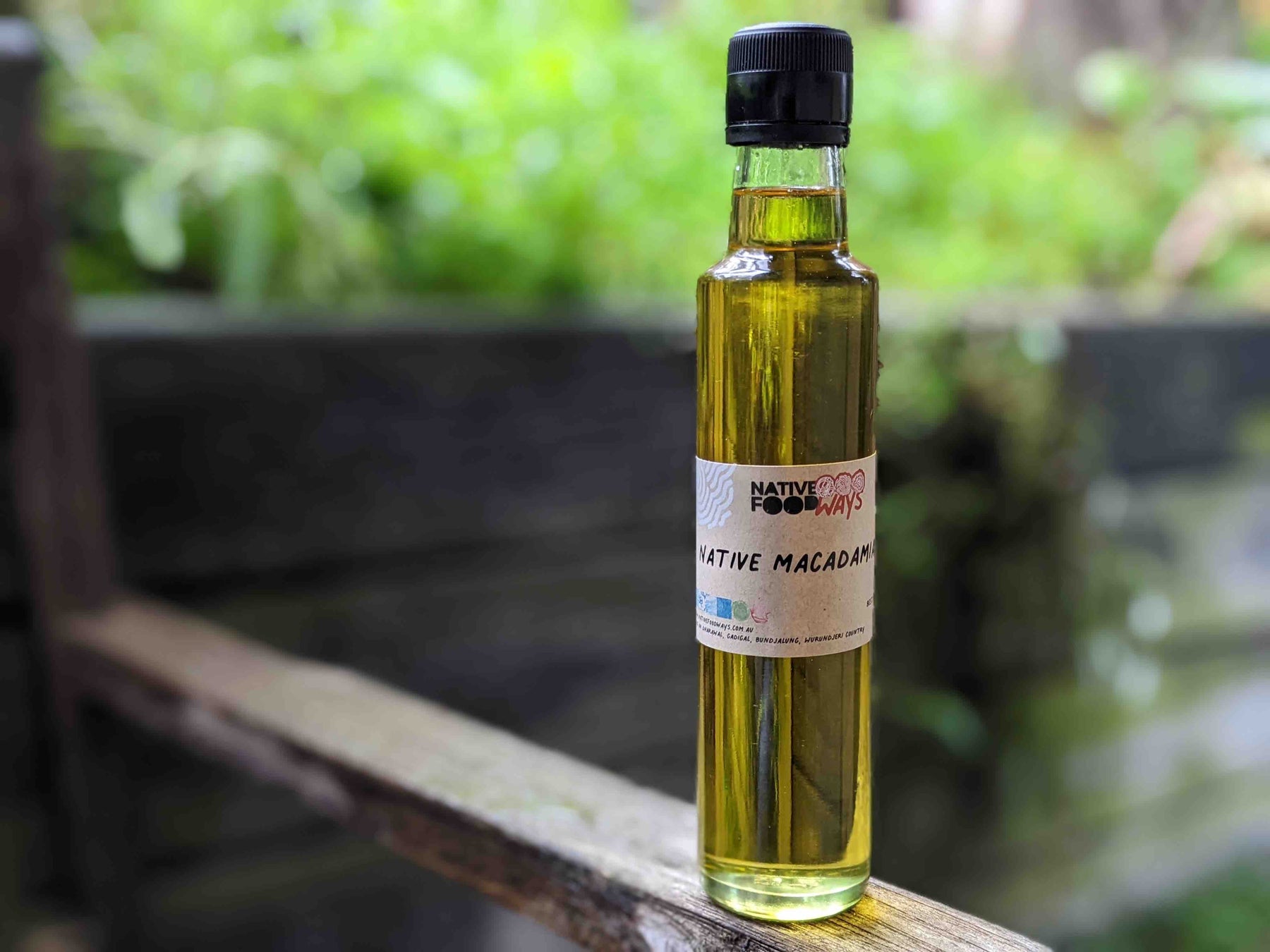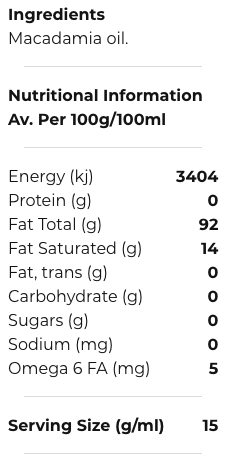 Native Macadamia Oli (Gumbar Gumbar in Bundjalung Language) (250ml) (Cold Pressed)
Cold Pressed Native Macadamia Oil, or Gumbar Gumar Oil, is rich, sweet, and nutty. It's perfect for frying (as it has a high smoking point), baking or directly on salads and bread. It's a great local and sustainable alternative to Olive Oil.
Macadamia nuts are naturally rich in essential fatty acids and have a range of health benefits. They are rich in vitamins, minerals, and fibre (including the prebiotic type that supports gut health), yet low in carbs and sugar. What's more, they boast healthy monounsaturated fats (good for the heart). Macadamia nuts are also loaded with flavonoids and tocotrienols, antioxidants that are good for the brain and safeguard your body against cellular damage and disease.
Macadamia is endemic to Bunjalung Country (Northern NSW and South East Queensland). Since time immemorial Bundjalung people have expressed the oil from the nuts and used it as a binder with ochres and clay for face and body painting. This is important for rituals and spiritual connection. 
Gumbar Gumbar oil was, and still is, also used for skin rejuvenation and as a carrier where it is mixed with other plant extracts to treat ailments. This nut oil is very moisturising, regenerating and softening for the skin due to its high level of monounsaturated fatty acids.
Allergen Advice

Packed and stored in a factory that also handles nuts, seeds, soya, grains, sesame and products containing gluten.
Manufacturing Process
Cold pressing refers to oils obtained through pressing fruit or seeds with a modern steel press. Although pressing produces heat through friction, the oilseeds are not precooked and consequently, the oil is considered cold pressed - in contrast to large scale solvent extraction and refining operations which strip the oil of natural antioxidants, vitamins and flavour.